Purpose Built To Achieve Compliance With:
Compliance with Safeguarding Covered Defense Information: What's Required and How We Can Help
Fast-Track Your Compliance
Embedded Compliance Expertise and Cybersecurity Best Practices, Pre-configured to Demystify Compliance for Businesses of All Sizes
Build Your System Security Plan
An SSP is not only a requirement but also a critical component of demonstrating compliance with the security requirements outlined in NIST SP 800-171 and CMMC. The SSP provides a clear and detailed description of how an organization plans to implement and manage security controls, and how it will monitor, assess, and report on security performance.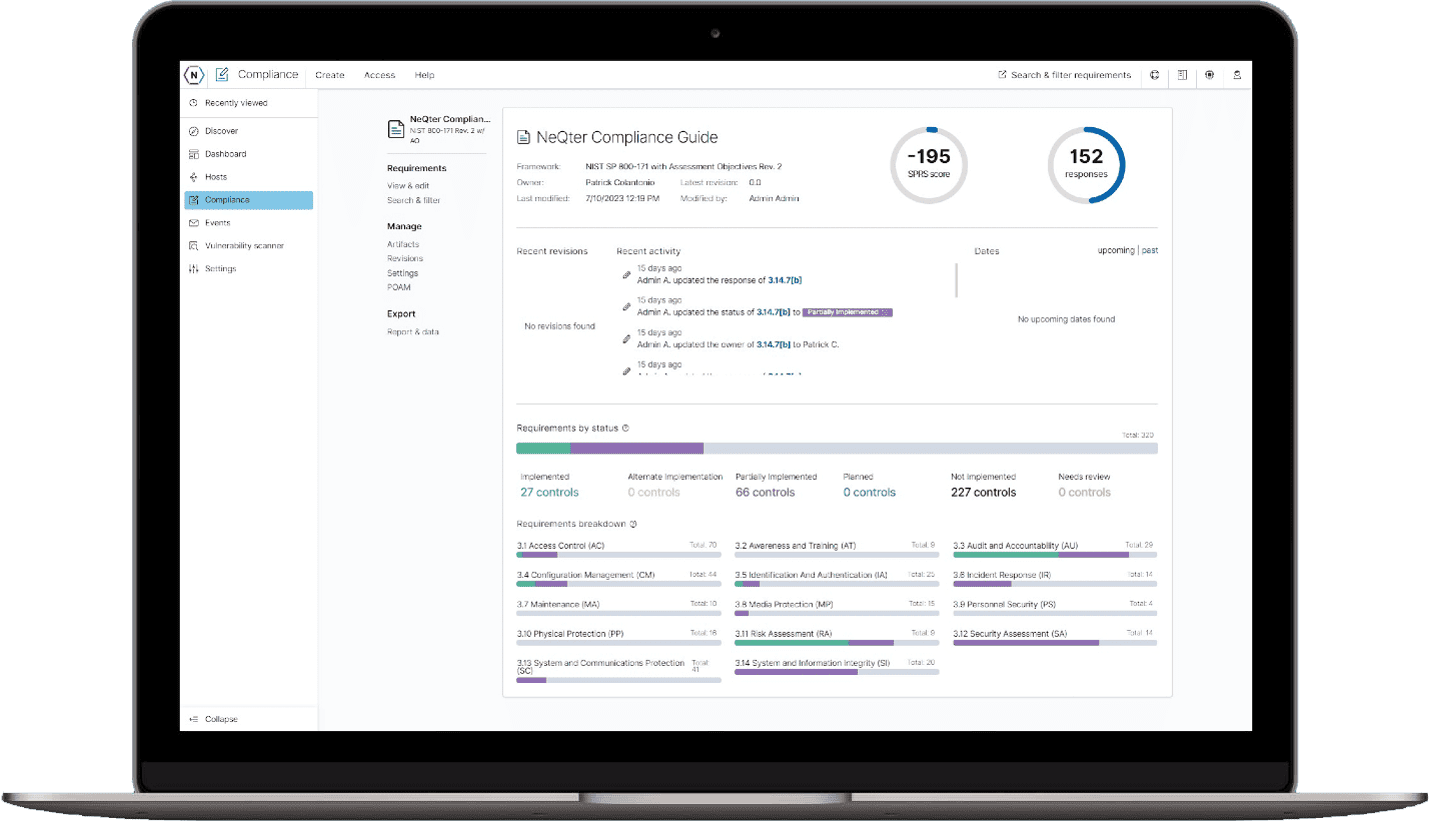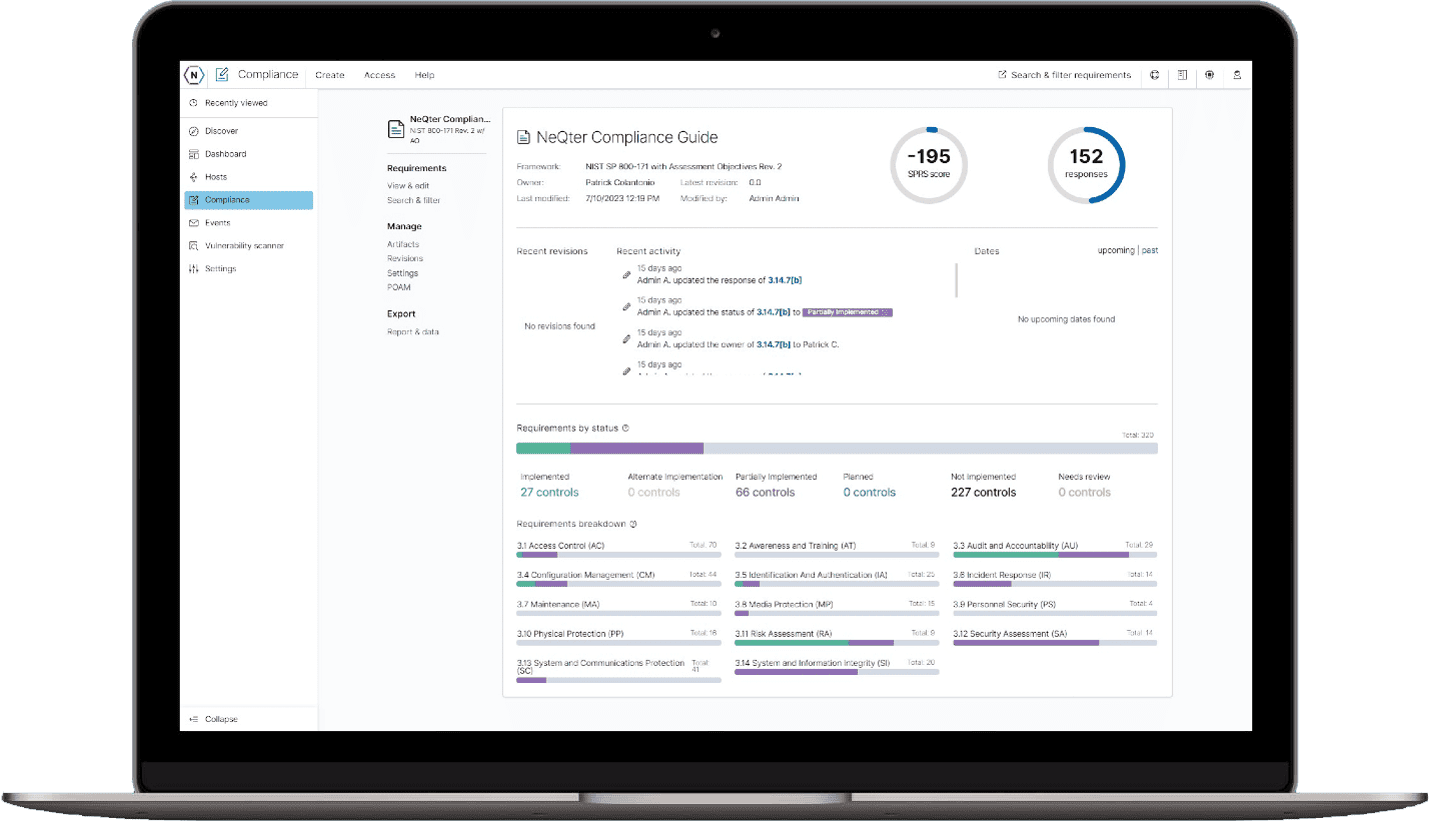 Track your progress with intuitive dashboards and reports. Assign tasks for outstanding items and keep all of your changes logged and captured under revision control.
Accurately calculate your score for all 110 individual controls based on the provided implementation status of each assessment objective based on the DoD official Scoring Methodology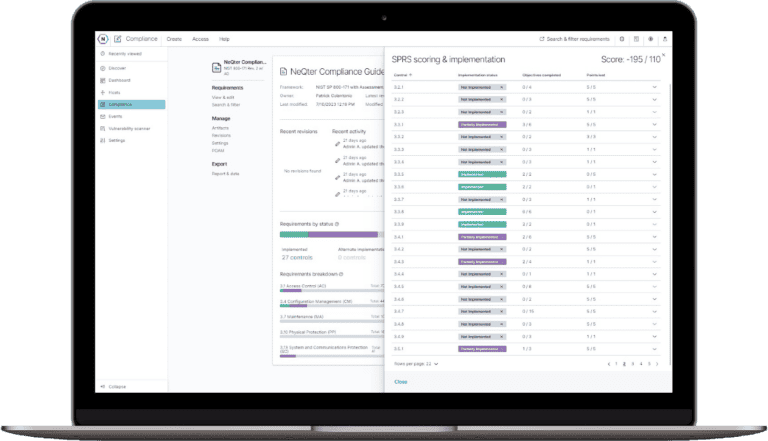 "The NeQter Policy Builder Tools have been instrumental in streamlining our SSP process and made quick and easy work of the ongoing reviews and control updates. The clean, intuitive, efficient and organized layout coupled with control hints and artifact attachments allow us to maintain our SSP in real time with little effort. Absolutely wonderful tool that eases the NIST/CMMC documentation burden. ."
The Tools You Need To Comply!
For many organization NIST SP 800-171 and CMMC are their first foray into cybersecurity compliance.  While many organizations have the basics covered, only a few have the tools they need to pass an Audit.  
NeQter's plug-and-play system features:
Want to take a deeper dive into all that the NeQter Labs Compliance Engine has to offer?
Mature Your Processes and Track Your Progress
Audits can be intimidating.  NeQter's compliance engine was specifically designed with the auditor in mind. Utilizing one system as your single source of truth helps streamline the audit process. 
Built-In Assessment Guidance
Utilize our built-in assessment guidance to understand exactly what an auditor will ask for.  Prepare your audit proofs and attach to the appropriate controls.
Customizable reports designed to show as much or as little information as needed.  Want a fully formatted SSP with all of your implementation descriptions, full revision history, artifacts and SPRS scoring in one document? We have that! Want a quick report showing all of your planned items? We have that too!
Know what you don't know…….before it's too late.
Ready to protect your business, achieve compliance and win and retain contracts?
NeQter is the fastest, most comprehensive way to defend your business reputation, protect your customers' proprietary information and achieve NIST SP 800-171 compliance.
Talk to us today, and let's explore what NeQter Labs can do for your organization.